#
Crewing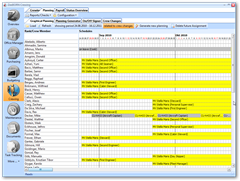 The ZeeBORN Crewing module can be used by the crew management ashore, crew agencies, crew managers and of course also on board of a vessel. All areas of crew management like recruitment, documents and certificate checking, planning, crew change management, training and payroll are covered. The data transfer between ship and shore is handled via the ZeeBORN Replication module. The integration with external systems like accounting systems and similar is done via a wide range of available interfaces.
The ZeeBORN Crewing module is available in different editions ranging from yachts and self-managed vessels up to multi-site/multi-client implementations with automatic site database synchronization.
#
Main Features
Crew recruitment including web interface for application data collection
Management of crew data incl. certificates, sea service history, contracts and contracts history
Graphical module for service planning (per ship or per rank)
Creation of crew assignments based on pre-defined rules. Create the planning for one year within 5 minutes.
Task list creator – get all urgent tasks in one single document. Tasks included: expiring certificates, missing confirmation letters, returning crew, crew to be assigned
On-board crewing module: access to crew qualification details, earnings and deductions, tools and uniform handout and return
Monitoring of certificate expiration.
Uniforms, tools and other equipment handed out to crew can now be tracked with the integration of the Stock Control module. The Stock Control module is now available also without the need of buying the Maintenance module.
#
Additional Services
Data migration from existing systems (e.g. AVECS CrewMaster, CrewMaster.net, AMOS Staff Management, ABS Crew Manager etc.)
Data processing incl. document and certificate scanning or conversion
Integration into existing work flows and interfacing to existing systems
#
Available Interfaces
Interfaces to other human resource systems
Interfaces to travel agencies
Interface to ZeeBORN Cashbook module (coming soon)
Interfaces to accounting systems (transmission of sea service details for further processing)
Interface to ZeeBORN Budgeting, ZeeBORN Purchasing and central ship time tables
#
Screenshots