#
Purchasing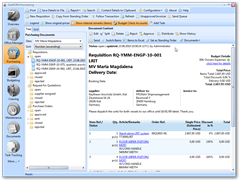 The Purchasing module works closely together with the ZeeBORN Maintenance and ZeeBORN Crewing modules. Nearly all everyday purchase tasks can be done by using this module. It helps with the ordering of spare parts, consumables but also with the purchasing of external services (e.g. maintenance services).
#
Main Features
Creation and approval of requisitions
Quotation handling with simple interface for quotation details import
Creation and approval of purchase orders
Real-time Budget Preview – see during the whole ordering process how the current order will affect your budget
Batch Processing – collect all purchase orders to be send in a queue and send them at the end with one click.
Delivery tracking
Invoice registration and payment tracking
Contract management (e.g. utility contracts, communication contracts etc.) – collect all necessary data that will provide necessary budgeting information for reoccurring invoices (fixed rates and variable rates).
Supplier Rating – send rating requests to all involved parties and collect the results together with the supplier's contact details
The Stock Control module previously available only together with and as part of the Maintenance module can now be integrated into the Purchasing module without the need of buying the Maintenance module. Get access to all items in stock and in catalogs from within the Purchasing module.
#
Options
Stock control with inventory
Catalog module for ordering catalog items (e.g. IMPA catalog etc.)
Mobile solutions for stock tracking and delivery tracking
Interfaces to several accounting systems
#
Interfaces
#
Additional Services
Data migration from existing systems
Application hosting via Terminal Server (ZeeBORN data center)
#
Screenshots